Looking for a few books to add to your reading list this summer? Whether you'll be reading by the pool or in the comfort of your own bed, this summer reading list is great for any bookworm with an interest in feminism.
Gain some perspective on sexism while you're laying on the beach or educate yourself on the trials and tribulations women have been put through over the decades on your flight to the Caribbean. You won't regret adding any of these to your bookshelf.
Trainwreck by Sady Doyle
Unrelated to the movie starring Amy Schumer, Trainwreck by Sady Doyle has been called eyeopening by even the most "woke" feminists. Reviews are overwhelmingly positive, saying the words in this book have shed light on new perspectives that may have otherwise gone unrecognized.
The Back of the Book
She's everywhere once you start looking for her: the trainwreck.

She's Britney Spears shaving her head, Whitney Houston saying, "crack is whack," and Amy Winehouse, dying in front of millions. But the trainwreck is also as old (and as meaningful) as feminism itself.
From Mary Wollstonecraft—who, for decades after her death, was more famous for her illegitimate child and suicide attempts than for A Vindication of the Rights of Woman—to Charlotte Brontë, Billie Holiday, Sylvia Plath, and even Hillary Clinton, Sady Doyle's Trainwreck dissects a centuries-old phenomenon and asks what it means now, in a time when we have unprecedented access to celebrities and civilians alike, and when women are pushing harder than ever against the boundaries of what it means to "behave."

Read More
---
Not That Bad by Roxanne Gay
Rape and assault are more common than many people realize. Not That Bad: Dispatches From Rape Culture edited by Roxanne Gay is a mind-blowing collection of essays that will shock, anger, inspire, and motivate you. It's an outstanding contribution to the #MeToo movement and reviews indicate these essays offer an inside look into today's rape culture.
The Back of the Book
In this valuable and revealing anthology, cultural critic and bestselling author Roxane Gay collects original and previously published pieces that address what it means to live in a world where women have to measure the harassment, violence, and aggression they face, and where they are "routinely second-guessed, blown off, discredited, denigrated, besmirched, belittled, patronized, mocked, shamed, gaslit, insulted, bullied" for speaking out.
Contributions include essays from established and up-and-coming writers, performers, and critics, including actors Ally Sheedy and Gabrielle Union and writers Amy Jo Burns, Lyz Lenz, and Claire Schwartz.
---
You Play the Girl by Carina Chocano
If you ever find yourself pondering the mixed messages you receive from television and movies telling you how to be a woman in today's society, then You Play the Girl: On Playboy Bunnies, Stepford Wives, Train Wrecks, & Other Mixed Messages by Carina Chocano may help put things into perspective for you. This collection of essays puts a spotlight on sexism and double standards in the media, many of which we regret to admit have shaped us as women. The first step towards ending this vicious cycle is to learn how to recognize the messages and how they can affect you.
The Back of the Book
As a kid in the 1970s and 80s, Carina Chocano was confused by the mixed messages all around her; messages that told her who she could be—and who she couldn't. Dutifully absorbing all the conflicting information the culture has to offer on how to be a woman, Chocano grappled with sexed up sidekicks, princesses waiting to be saved, and morally infallible angels who seemed to have no opinions of their own.
She learned that "the girl" is not a person, but a man's idea of what a woman should be—she's whatever the hero needs her to be in order to become himself. It wasn't until she spent five years as a movie critic, and was laid off just after her daughter was born, however, that she really came to understand how the stories the culture tells us about what it means to be a girl limit our lives and shape our destinies. She resolved to rewrite her own story.
---
Notorious RBG by
Irin Carmon & Shana Knizhnik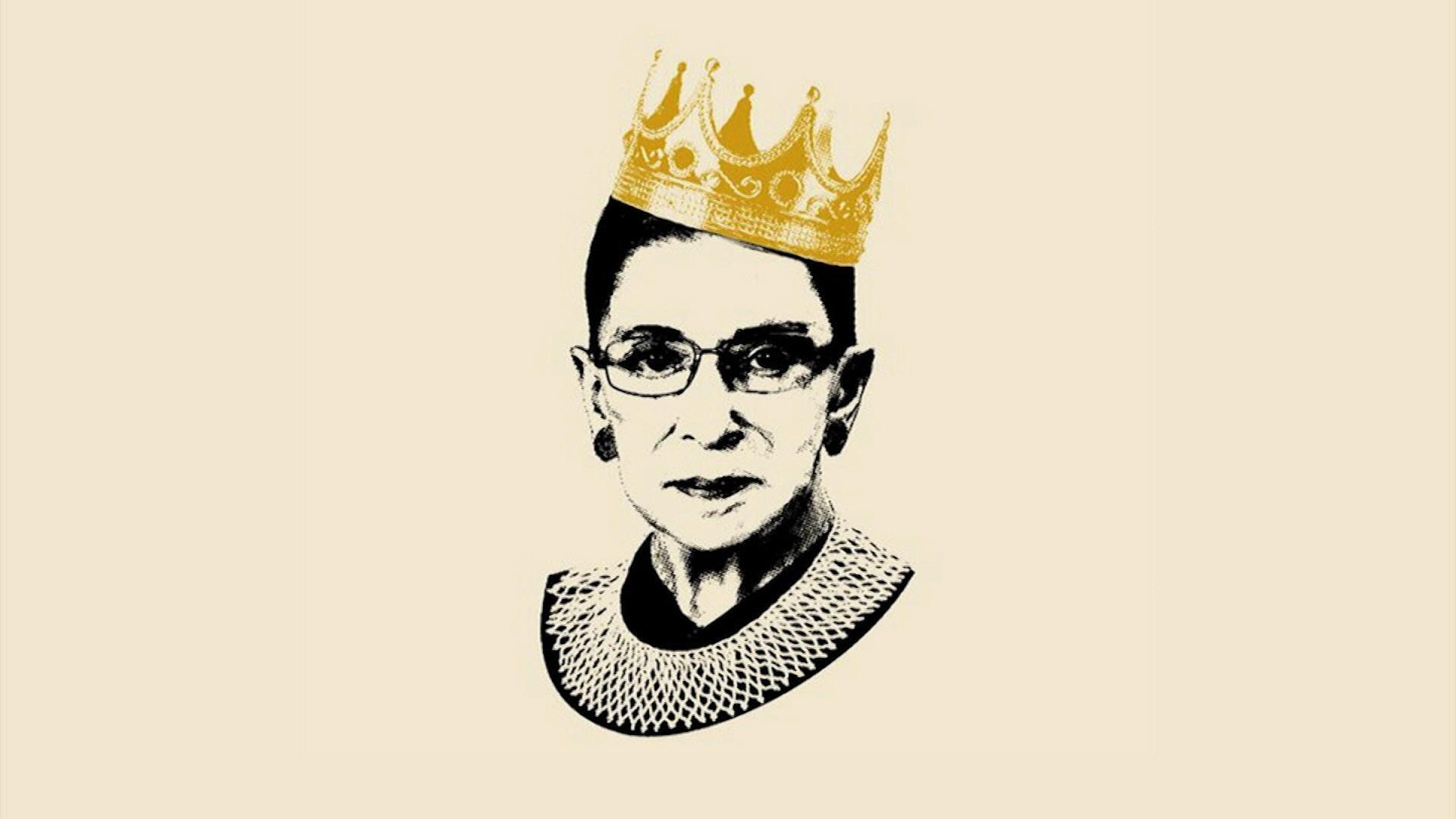 Ruth Bader Ginsburg has been an inspiration for women all over the world, making strides in gender equality, women's rights, and so much more. Notorious RBG: The Life and Times of Ruth Bader Ginsburg by Irin Carmon & Shana Knizhnik is the ultimate millennial guide to everything Ginsburg. The coffee table book is packed with illustrations, interviews, and insight into an untold story on what makes Ginsburg the idol she is.
The Back of the Book
Supreme Court Justice Ruth Bader Ginsburg never asked for fame—she has only tried to make the world a little better and a little freer.
But nearly a half-century into her career, something funny happened to the octogenarian: she won the internet. Across America, people who weren't even born when Ginsburg first made her name as a feminist pioneer are tattooing themselves with her face, setting her famously searing dissents to music, and making viral videos in tribute.
Notorious RBG, inspired by the Tumblr that amused the Justice herself and brought to you by its founder and an award-winning feminist journalist, is more than just a love letter. It draws on intimate access to Ginsburg's family members, close friends, colleagues, and clerks, as well an interview with the Justice herself.
---
Men Explain Things to Me by Rebecca Solnit
A quick and easy read, Men Explain Things to Me by Rebecca Solnit is a collection of essays including her humorous piece on mansplaining. Solnit's essays have changed the perspectives of many and often touch on feminist and cultural issues. Opening the eyes of men and putting our feelings into words or women, this is just one of Solnit's collections. Guaranteed you'll want to read more of her work after you get a taste of these essays.
The Back of the Book
In her comic, scathing essay, "Men Explain Things to Me," Rebecca Solnit took on what often goes wrong in conversations between men and women. She wrote about men who wrongly assume they know things and wrongly assume women don't, about why this arises, and how this aspect of the gender wars works, airing some of her own hilariously awful encounters.
This updated edition with two new essays of this national bestseller book features that now-classic essay as well as "#YesAllWomen," an essay written in response to 2014 Isla Vista killings and the grassroots movement that arose with it to end violence against women and misogyny, and the essay "Cassandra Syndrome."
---
Feminist Fight Club by Jessica Bennett
If you haven't read this book yet, then you're in for a real treat. Don't expect to read anything about Brad Pitt or Edward Norton dueling it out in any basements though. Feminist Fight Club: An Office Survival Manual for a Sexist Workplace by Jessica Bennett is for women by women, offering insight and advice into dealing with sexism in the office.
The Back of the Book
It was a fight club—but without the fighting or the men. Every month, women would gather in a New York apartment to share sexist-job frustrations and trade strategies for how to tackle them. For years, these meetings were kept secret. But the time has come to talk about the club.
In Feminist Fight Club, acclaimed journalist Jessica Bennett blends the personal story of her real-life fight club with a studied assessment of the gender gap that continues to plague the American workplace. With equal measures wit and rigor, Bennett provides the tactical strategies—and the camaraderie—every woman needs to fight back, as well as tools for the men who support the cause.
---
Becoming by Michelle Obama
As one of the most inspirational women our generation has seen, Michelle Obama is more than just the former First Lady. She is a true example of class, advocate for healthy living, and a role model for young girls. In her memoir Becoming, readers get a glimpse into her childhood, her career, and of course her time in the White House.
The Back of the Book
In a life filled with meaning and accomplishment, Michelle Obama has emerged as one of the most iconic and compelling women of our era. As First Lady of the United States of America—the first African American to serve in that role—she helped create the most welcoming and inclusive White House in history, while also establishing herself as a powerful advocate for women and girls in the U.S. and around the world, dramatically changing the ways that families pursue healthier and more active lives, and standing with her husband as he led America through some of its most harrowing moments. Along the way, she showed us a few dance moves, crushed Carpool Karaoke, and raised two down-to-earth daughters under an unforgiving media glare.
---
Have a favorite book for our feminist readers to add to their summer reading list? Share it in the comments!